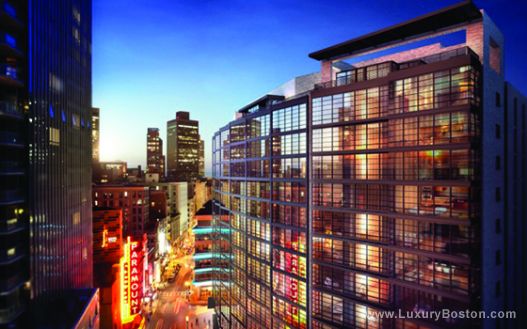 Millennium Place Condos, Developed by Millennium Partners(Developers of The Ritz Carlton Boston Common and the new, proposed Millennium Tower) and designed by Handel Architects, Millennium Place will feature 256 residential units, with one level of below grade parking for 125 cars and ground floor retail within the envelope of a fifteen (15) story structure. Located at 580 Washington Street, construction is currently expected to be in early October of 2013.

Building Features

Owner's Lounge: Relaxing lounge with fireplace and casual seating. Suitable for entertaining and social gatherings.

Dinning and Wine Tasting Room: The dining room is an exclusive, resident-only room that offers an elegant space to enjoy a meal in an intimate setting. The Dining Room will be served by a first-rate on-site
restaurant. The room can be reserved for private gatherings and/or wine tastings for an additional fee.

Lounge Bar: The Bar provides full bar service for residents and their guests. Patrons can enjoy a glass of their beverage of choice, while conversing with friends and/or business associates in the Club Lounge.


Screening Room: Large screen HDTV and relaxing seating for viewing movies, television and sporting events.


Children's Playroom: A creative play space will be designed to accommodate children of a variety of ages and their parents/caregivers.
Garden: A bi-level urban garden designed in a theatrical "stage" setting will provide a welcoming site to Millennium Place owners from porte-cochere and a peaceful Boston Common park inspired background from the Owner's Lounge.
La Vie: La Vie is a Millennium Partners proprietary program for residents that provides an opportunity to experience exclusive and engaging activities and events.

Millennium Place was wildly successful and one of the fastest sellouts of a large scale new construction development in the entire Country. Due to the success of Mplace, Millennium Partners has announced, and recently broken ground on Millennium Tower, a 55+ story, ultra luxury condominium complex that promises to be the first of its kind in New England.

Click here to register for information



Millennium Place Boston
| Contact info
Stephanie Baldasaro

Broker/Owner, Realtor®